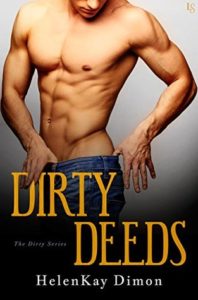 Dirty Deeds by HelenKay Dimon
source: copy from Netgalley; all opinions are my own
Official Summary (add on Goodreads): Alec Drummond didn't make his billions by playing nice—or by playing much at all. When it comes to pleasure, Alec only has time for whatever's quick and easy, which is exactly what he gets from his company's hot new computer genius. But Gaige Owens isn't some pushover. He pushes back, and it's giving Alec a rush. The question is, could Gaige be the one who's leaking trade secrets? Just to be safe, Alec keeps him close at hand . . . night and day.
Gaige never thought he'd roll over for a man like Alec again, but who could resist sex this mind-blowing? Then there's the draw of Alec's mysterious side: his cutthroat ambition, his covert CIA connections, and the murder in his past. For Gaige, a deeper look proves an irresistible temptation. But when Gaige and Alec are stripped of their defenses by an unseen danger, everything they don't know could bring them closer together—or tear them apart. Only one thing is certain: Before it's all over, someone's going down.
Review

: Dimon has a trilogy called the Tough Love series (links to my reviews – Mr. and Mr. Smith, The Talented Mr. Rivers, and Guarding Mr. Fine) and while you don't need to read those before starting Dirty Deeds, Alec Drummond is a character that appears. If you have read the Tough Love series, then you definitely need to continue with this one. This book (including the previous series) is full of suspense, mystery, weapons, and possible injury. Alec is the head of a billion dollar company, and he doesn't get along with most people, his brothers the main exceptions. He helps the CIA when it suits him, but he's not happy when CIA agent Seth has Gaige Owens enter his work and hack into his system. Now Gaige is being forced to work for Seth, and Alec doesn't trust either of them, so he's keeping a close eye on Gaige…so close, Gaige is staying at his place.
Alec and Gaige are different in ways, but oh so wonderful for each other. The chemistry is intense and it doesn't take long for their "work" relationship to turn physical. Neither of them expect to truly trust each other though, but as the book continues, it becomes clear that they might be the only people either of them can truly trust. After all, neither of them appreciate being told what to do by the CIA.
Dimon is a great author, and I will happily keep reading her work. You're to fly through these pages! It's a perfect mix of plot/mystery and romance/passion. Give me the sequel already!
On a different note, I'm celebrating 10 years this month so I'm doing random giveaways and I want to make sure you know about them.
Twitter Giveaway

: Follow me and RT original link to win anything Harry Potter related $12 and under from The Book Depository. Open INT'L if TBD ships to you. Ends August 16th. Enter here – it's the pinned tweet at the top!
Instagram Giveaway

: Follow me, like the post, and tag a friend in the comments to enter to win a book (extra entry if you share the post and leave another comment). Two winners – each person gets one book of choice – and it's open to U.S. only. Giveaway ends August 31. You can win Pop Goes the Weasel, Black-Eyed Susans, or the novel version of Broadchurch. I've read and enjoyed all of these (they are all mystery novels!). Post to enter here.